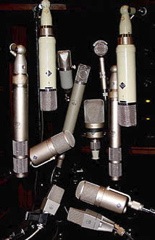 Big Band and Orchestra Pro-Digital Recording Services
Remote recording for High Schools - Colleges - Concerts or Studio
* Using only the finest microphones available...
* Digital 192K - 32 bit Multi-Track capable...
* Special micing techniques for ambient tone and noise control...
* CD Art and duplication available...
*Mixing and mastering included...
*Ref disk for music director produced in 2 days.
*Complete package pricing available can be linked to CD sales...
Pricing on request
most recordings generate profits for your music department renduring the cost of our services as free.
How good are your bands?