Studio Stuff...
I built several rooms while in the studio business all of them called Alpha Studios Inc. The first began in my home in North Hollywood and was rebuilt in Burbank 5 years on.. It was a great time and putting together rooms was a highlight of my career. Today most studios are either out of business or going out due to the non-functionality of the music business model.
My partner Denny Shaw was a great tech with me at the Magnolia Alpha and one of the most interesting studio experiences was buying and installing a Calrec UA-8000 console to find the AMS automation did not work properly.
This slowly killed off most of our projects until Denny interfaced an SSL G series system in it's place. A feat which even SSL scoffed at until we announced it's completion. At that point some heads rolled at SSL. It worked great!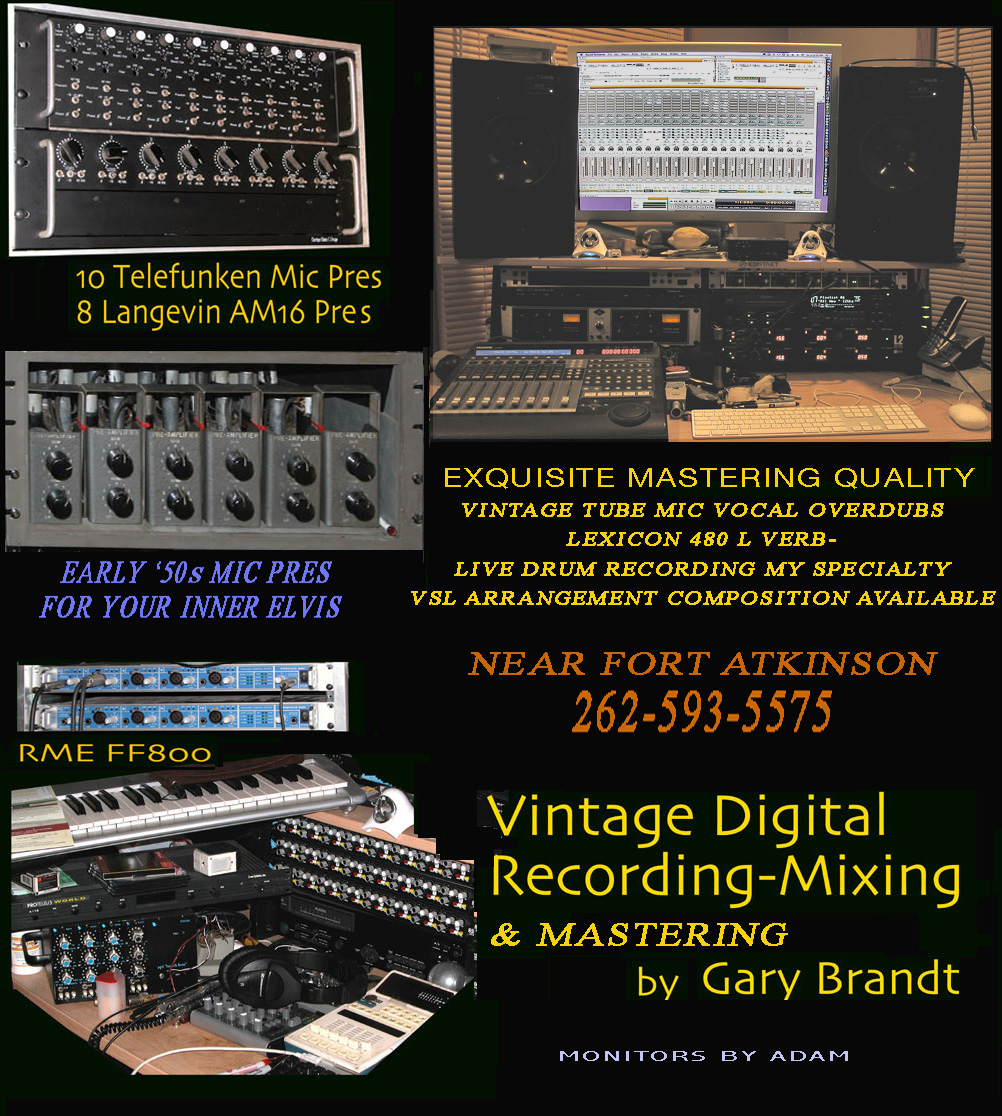 We continued until we got tired of the "studio biz" and sold in 2003. Like buying an airplane, one of my other passions, a recording studio is the most exciting thing you can ever own when new and in the end, the most happily sold.
____________________________________________________________
DISKOGRAPHY
Recordings & Productions 1996 Present
"Retrobeast", Play On Album" Producer/Engineer (www.cdbaby.com/cd/retrobeast2)
"Retrobeast", Cloud Factory Album" Produce/Engineer (www.cdbaby.com/cd/retrobeast)
"All Around The World" "Pen Culture, Producer (Earth Island Records)"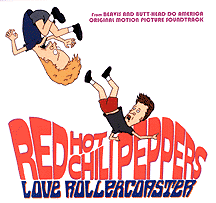 "Red Hot Chili Peppers" Re-Mix "Love Rollercoaster 4"Bevis & Butt-head Do America" Brig Mo-Pic
"BECK" Re-Mix,"Devil's Haircut", for British release, Geffen Records/Dave Donnely
"Michael McCarty Album "Voices" , Producer (Earth Island Records)

Recordings through 1996
"Harmony Innocence" Giant Records four sides all recordings
"Howard Hewitt" Re-mix & recording
"Secret Adventures" 2 hour film - 27 cues. All recording
"New Mexico Tourism" 14 cues / 1 hour film. All recording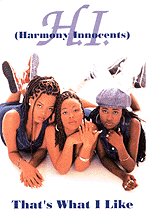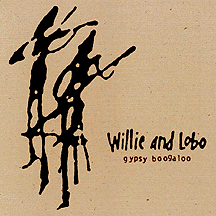 through 1995 "Tracy Spencer" R&B Song of the Year, "Musicbox" , Capitol, all recording
"Willie & Lobo" Album, #2 in Billboard International chart 1/94 all recording
"Charlie Musclewhite revisited" album, all recordings released 1994
"Billy Graham" 1 hour film, all recordings
"American Detective" TV 24 shows, all recording
"Pop Staples" 3 songs produced by Ry Cooder, Blues artist of the year, All Recording
"Ry Cooder" various film project recordings
---
Older Recordings Prior to 1992
Prince 1979 in my home studio
Most recent article FYI: http://www.housequake.com/showthread.php?s=&threadid=56697
"Kenny G", "Silhouette" Sax recording "Michael Bolton" ,"Soul Provider" Lead Vocal Recording. "Robbie Dupree", "Steal away"/ "Hot rod Hearts" co-produced-enginnered. "Steve Goodman" , 1978 through 82, all recorded work. "Prince", "I Wanna be your lover" first hit album, Warner Bros. "Dr. John" "Gumbo" album, Atlantic co-engineered with Keith Olson. "Gordon Lightfoot, "If you could read my mind" album, Reprise, all recording. "Stoneground"(WB), "Savage Grace" (WB), "Neil Diamond", "Brooklyn Roads". " Ike & Tina Turner", Album (Black -White). 5th Ave Band, "Little Feat", "Neil Young", John Sebastian", " The Turtles" , "Strawberry Alarm clock", "Stoneground", "Beau Brummels / Sal Valentino,", Ian Witcomb-David Mallot, First commercial success/recording: "Bobby Gentry" , "Ode to Billy Joe" , Some favorite recordings from Sunwest:UnknownartistWatchtower.mp3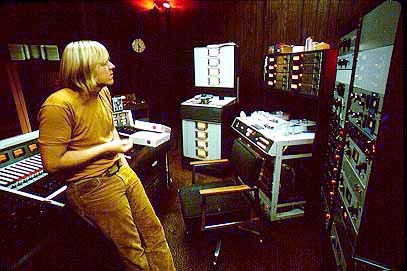 Photo by Donn Landee
Picture 1969 working at Sunwest Studios Hollywood.
The console at the time was a custom Electrodyne/Langevin built by Robert Mahoney. Bob was the first chief maintenance for this studio and was responsible for my first Hollywood gig there. He was a great friend.
I grew up on Pultec EQs and Teletronix LA2As plus a host of tube mics. It was common gear for us then and now it's beloved vintage gear.
In the 60s it was a challenge for an engineer to find new sounds for rock and contemporary artists. I met Donn Landee during this time who was working for the Ami Hadani/TTG Studios on La Brea Hollywood. Oddly he had just been terminated.Donn claimed it had to do with a groupie and Engineer Bruce Botinic, who knows? He wandered in to Sunwest one day and I convinced the owners to hire him at Sunwest. From there he went on to work with bands like Doobies & Van Halen before he retired in the late 80s.
Others I worked with early on:
David Mallot 1968 (Producer)
Gary Usher 1969 (Producer)
Lenny Waronker 1969 (Producer)
Joe Wissert 1969 (Producer)
Van Dyke Parks 1970 (Artist)
Jules Alexander, 1969 (The association)

It's a bit embarresing but here are a few songs from our band in the '60s "SMALL WORLD". Band members were Myself Guitar-Vocals, John Gulack Drums, Denny Shaw-Guitar, David Holeman-Keys, Brian Coffey-Bass. (All transferred from old lacquer dubs in VERY poor shape). Sorry about that. It's all that exists.
FLIGHT 42 Produced and recorded by Gary
THE LIFE YOU LEAD Produced by Clancy Grass and Bob Mahoney
I THINK I'D DIE First ever vocal band (Gary & the Fugitives) and first ever recording. Written and produced by band. Engineered by Paul Gettys Early Pic as kids:

Was In bands through early High School: Began working in studio training during High School -Pacific Challenger, Element 1966-67, Went to work Sunwest Studios Hollywood 67-70, Sound City 72-76, Began Alpha studios 77.
(A good read... and it's true from the '60's)
"The Wig"
A Battle of the Bands rock story from 1964 right after the Beatles invaded music in the states. By Gary Brandt, Musician/Producer. __ __ __ __ __ __ __ __ __ __ __ __ __ __ __ __ __ __ __
I was 14 in a mediocre band and played electric guitar, did some vocals too. I had blond hair, short with bangs in front and looked typical California surfer. I did surf. I got a call from a friend, Paul Getty, who told me his brother Dave had signed us up in at a battle the band's 30 minutes drive south of where we lived in the San Gabriel Valley, California.
In the summer of 1964 and everyone was raving about the new British invasion bands, especially one called Beatles. I went to a summer camp three weeks earlier and had taken my acoustic guitar with me. The camp speakers blared endless Beatle tracks which daily blanketed the campus airwaves. I could play along usually and learned most of those tunes. We would later play them at our gigs in the years following. When I got home, in came the phone call from Dave. "You wanna try playing at this battle the bands"? "You have to play bass", he asked. I told him I never played bass before but Dave began a major pitch to me that it was no biggie finally ending with, "just fake it, we have an ace in the hole". "OK Dave" I 'll do it. Where is it and what time"? "1:PM on Saturday at a mall parking lot in Pico Rivera". I remember playing there once before doin surf music. Our 3 piece band had won 3rd place. I think there were only three bands battling. I was slightly impressed because t""The Carpenters" had Won it there once, or was that in Alhambra... Don't remember. Anyway... "Who's playin drums" I asked Dave once again? "Have a friend named Ed Michelek". "His dad works for Columbia Records as an audio engineer and he built him a custom drum riser and got him a 'real' hair Beatle wig from the props department. Ed's dyein to show it off". Dave had mentioned earlier that Ed actually owned a new set of "Ringo Starr" Oyster Black Pearl Ludwig drums his dad bought him. It all sounded like more fun than a human should be allowed to have so I easily gave in. Saturday rolled around quickly. I got a call again from Dave at 9am who said he'd pick me up soon. "Look for my 58 Chevy, pink-white two tone in front of your house at around 11". I had no idea what I was going to play nor did we rehearse a note. I knew that original tunes require some advanced thought but I was convinced Paul's brother, who I totally respected, knew exactly what he was doing. After all, he was older than me and had a real job. Dave was a sound freak like his brother Paul. Paul was a part time audio engineer who worked in a small studio in Arcadia California to support himself while in college. I met him there 6 months prior when our band booked his studio for like 10 bucks an hour and recorded our first live, original vocal song. I had just turned 14. I remember walking into the control room on Live Oak Ave in Arcadia, California. It was VERY cool. I asked Paul a bunch of questions and learned allot about recording that day. The studio included a custom vacuum tube recording console with rotary pots. This was gear not unlike what EMI used to record most of the British bands on radio at the time. This stuff would be worth a fortune today. Had I only known. All of it was configured with Altec 604E speakers for two track on two track recording. Oh.. & lets NOT forget the TWO Beatle U47 Telefunken tube mics which hung on giant stands in the middle of the 20 x 20' room. Altec A7s sat on the floor in the corners. Pauls favorite trick was to put tape slap on our vocals and feed it back through the room to surprise us. The sound was incredible. I guess this is what sparked my early sound interest and I'm sure it all really started there for me. I have done engineering and production ever since and collected similar gear. I use it to this day on bands like Retrobeast. Dave had worked there a few times helping his brother but his main gig then was with the JBL speaker company whose early years location was in an old brick building in Glendale next railroad tracks, as I recall. Even in the '60s, the older guys all had to have day gigs or the parents would boot them out on the street. It was the "support your own damn self mentality days" "summertime Blues" remember the song? I was just a freshman in High school fortunately. Saturday morning in No. El Monte where I lived next to my High School, Arroyo High came early. I heard the horn, looked out to see this cherry 58 Chevy Bel Air, pink and white as advertised. I grabbed 1/2 my amp and guitar, a Fender Showman and Duo-Sonic guitar. We carefully loaded them into Daves trunk. Dave had to move this gorgeous 64, pink, Fender Precision Bass to give my speaker cabinet some space. Proud of his instrument, he opened up the case to show me. Funny how the color matched his car! "You'll be playing this, I'll play your guitar". "Anything you say man, let's do it". We headed for Hacienda Heights where Ed the drummer lived. When we got there Ed was loading the last of his drums, a brand new set of Oyster Black Pearl Ringo Starr Ludwig drums his dad sprang for just as Dave claimed. Ed had real short hair and looked like a marine, not for long. He reached in a window, now completely loaded with drums and grabbed this dark brown, real hair Beatle wig. "Going in the house for a minute to check myself, be right back", Ed proudly quipped. He was in & out in 1 minute as stated. "You want to ride with me, looking me in the face? I turned to Dave and he said "Gary go with him because I have to get gas anyway and you can help Ed set up". Seemed logical to me. Eds Dad came out to watch his son bound out the door with hair on. "Ok you guys, have fun". He was sort of laughing and seemed to REALLY enjoy the whole thing. "Good luck... later", he yelled. Was about 12 noon. We had to make the gig by one or be disqualified. Eds car was a Corvair station wagon, light blue, new condition. It was his dad's car actually and loaned to Ed for the gig. The round drum riser his dad made was hinged and folded up perfectly into the car with seat taken out or folded down, don't remember which. Anyway, the Ludwig pearl drums could easily be seen from any window of the car and we felt GREAT! So... on we went, cruisin down the street. I chatted with Ed as we drove concerned about the songs. I asked him how long he'd been playing and exchanged the typical banter of two unlikely musicians for the first time. Since I had no idea what we're going to play I asked him and he said, "yes, he had practiced the tunes before". But I soon figured out he didn't know anything about chords. Cutting the conversation short he just said, "Hey they're pretty easy and you won't have a problem". Of that I was certainly NOT convened. It was about a 30 minute ride to get to the venue. It was a really nice, sunny, hot, Southern California day. As we drove down the street we glanced over and caught two awesome lookin babes transiting to the left of us on the sidewalk. As we approached in the station wagon, (remember this is 1964 post the Ed Sulivan Beatle debut), the girls looked up and saw Eds wig with Ed under it, 18 years old, long dark brown hair, (the wig), waving in the breeze. I must admit he looked like a rockin Brit star right off the plane. The girls pointed and immediately screamed at the top of their lungs, and nice lungs they were. This was to be repeated a few times as we got closer to the gig and the experience would never be forgotten. We were even beginning to like it as Ed began using his mojo to draw attention to him and waving. I was beginning to feel a bit embarrassed. As we drove in, girls with their boyfriends were leaving them behind and advancing towards the Corvair as Ed stepped out of the car and began to unload. I think because of curiosity for the most part. They were behaved thankfully. Their boyfriends were a bit pissed though and kept their distance. Local hired security guards were milling around and surrounded our car as a bigger crowd emerged. This helped us unload and set up. The bands were all there. Fender amps, Sears-Silvertones but no Vox, too new. They hadn't made it to the west coast yet. Lots of people were coming in. An amp flipped on, a few crackling noises, then the entire contents of the shopping center, which was about to 150 people at first, started heading our way when they saw a Ed up on his riser and that hair. Was it Ringo??? Security immediately stood in front and supported a temporary chain link fence which was set up for all of the band's. There were about five bands there including us but the crowd was watching Ed and it was a bit weird. We didn't even know the songs, for God's sake. The judges seeing all the interest decided to have us go last. Great! The music gave us a reprise from the crowds though. We kept our instruments with us and bided our time behind the fence, safe and secure from our newfound fans. Each band got two songs each. Eight songs and 30 minutes later, (short songs back then), the judges approached us. It was too loud in the lot with all the distractions and sound to discuss the tunes while the other bands were on so I was still clueless about what to play. The moment had come. I looked to Dave. He at Ed and sticks clicked and stopped stopped for a few seconds. Hey, at least I knew the tempo. Dave was just as frightened as me, you could tell, and said quietly, "just follow me". I shrieked back, "what key"!? Dave was paralyzed, overwhelmed and couldn't answer. I had to look at his guitar neck to figure out that he was starting in the key of A, was it? I hoped so. Ed's sticks clapped once again counting off with that Ringo sharp fake accent tone 1 to 3 fo. The girls in the crowd started to scream before the first note seeing Ed shake his head like Ringo. What a clown, I thought. It was funny for a second. As we stumbled through the first song, the audience didn't really seem to care what the hell we played. Paul was right and it was a good thing too cause we stunk! The judges were no where to be seen by the second song. They apparently weren't amused or entertained. "They're pressing up against the fence"! I screamed. Dave stopped singing for a second, we were all thinking routes of escape and forgot what we were playing. Security was holding them and the makeshift fence back but through the middle of the song Ed pulled out an extra stick from his bag and threw it into the audience to get them, like dogs to a slab of steak to back off the fence. Yikes! It WAS just like throwing a T. bone steaks to a pack of wolves. The crowd grew to about a thousand, it seemed, (more like 350). They started screaming louder pushing harder against the fence. Dave was doing his best to spit out the tune and tried to play his song but I was missing all the changes and really embarrassed by then. Towards the end of the second song Ed our "frosty the clown" drummer, knowing how shitty we really were decides to throw another stick to the audience this time for effect. That did it. The fence was down. The entire security team rushed from the rest of the parking lot rushed in and just managed to push it back up in time grabbing kids and holding on until we finished. And finish we did! I was so glad when it ended. It was like a real long piss relief. I didn't give a shit about anything else but to get the hell out of there. Ed was freaking and afraid to leave the fence area as chicks were still trying to get at him from across the lot so he stayed there and I went and got his car. I backed it right against the fence and security dropped it so we could load standing on both sides. Dave just disappeared. Don't know where he ended up although I saw him weeks later. He was the smart one looking out for his bass and 58 BelAir. Fortunately, Ed and I got everything loaded quickly into the back of Carver with the help of the guards. We started to make it around the fence to get into the car and that's when it happened. Ed walked around the fence and reached for his car door when some chick reached over and grabbed his hair over one of the guards. OFF CAME THE WIG! ALL THE WAY OFF! Ed grabbed it back but the mass of females shrieked like seeing the "Creature from the Black Lagoon" and started yelling and cussing at us. I didn't really blame them but I was frozen with fear.. Ed and I jumped back inside the car and locked the doors as fast as possible. My God this was supposed to have been fun... Now the boyfriends got into it. I guess they all felt betrayed too thinking Ed was some major British Rock star fresh off in from London and watching their sig. others go nuts. This was what they had been waiting for. We began to back out slowly when fists, arms, feet, even heads began hitting on the car. They literally dented the shit out of Eds, Dads Corvair in four places and one guy jumped on the hood. You could say we barely got out alive. This wasn't an awe struck crowd, they were PISSED! We drove about a mile away from them to a gas station and stopped to asses the damage. It was considerable. Ed was freaked. What began as just an innocent play date was now the ultimate disaster. He dropped me off at my house not saying a word to me the whole way muttering about what his dad was going to do to him. I wish I had gone with Dave, where ever he was. Needless to say we lost the gig too. A "Louie Louie" type band picked up the $200 prize......... The last time I saw Ed I had driven up to his house to visit him. His dad set up a new gig for him I found out. His Parents owned the drive in theater in Hacienda Heights and I finally found him breaking up dirt clods on a hot day in an undeveloped lot behind the theater. He wasn't wearing the wig that day! I asked him what happened after the gig. You could say he was a bit bitter. He kicked the ground and muttered "two months f---ing probation" and continued to tell me about various punishments his unintended experience would provide via the parents who's idea it was in the first place. I felt sort of bad for him but what could I do. It seems as I look back if kids could have communicated better with parents I think things would have been MUCH easier. Ed didn't deserve what he got for the car damage but didn't know how to explain it to his dad in a reasonable way and like a bad dog, accepted his fate without argument. So much for my Jerry Springer philosophical paragraph... ...now a word from our sponsor; HEY, Retrobeast here. Buy the Damn album and catch us on the "turn it up to 11 o'clock news" ...back to the story... Before I left the theater lot I watched Ed do an occasional jeer and flip off people driving by a couple of times. Every once in a while during the conversation he would pick up a dirt clod and throw it at a passing car. He never hit anyone. Never saw Ed again in my life and that's pretty much the end of "my first British invasion experience", one of many band experiences we were abut to have playin Rock. Hey Ed, if you read this, email me I gotta know. What happened to the wig?